It's been busy at Ped's & Ro this week. I started a new project to create a tool box style bag with reinforced strap. The idea is to have a bag that can carry heavy items (15kg+) without permanently deforming the leather, in other words a bag that can do 15+kg all day long. This will be achieved with heavy leather and wet forming.
I learned new things from this project, solid copper rivet. This is the strongest rivet out there for leather work. Takes about 5 times longer to put one of this rivet compare to the normal two piece rivet. I also learned that, for your neighbor sake, not to apply this rivet after hours, the fastening process involves a lot of metal to metal hammering. Look wise, it's doesn't look as neat as two piece rivet, it's more utilitarian and rugged, which fits the purpose of the bag.
I use cross stitching for the edge to properly distribute the tension between the leather surface. Behind every 'x' pattern there is a knot so the thread doesn't come loose. Very time consuming to stitch this piece but in the end it's all well worth it.
I decided to leave the edge bare for the body of the bag. Few reasons for this, 1) the blade that cut the leather is extremely sharp and the resulting cut leaves a very neat and almost burnished edge, 2) I'm going to use this bag often therefore will let nature weather the edge naturally.
As for the strapping, I treated the edge lightly to give it a softer look and feel. I quite like how this turned out, very neat and minimal change in colour. I'm thinking of adding a shoulder pad but as the strap itself is quite wide, I might give it a pass.
Some 'In progress' shot (some shot of upside down bag due to wet forming). Don't mind the silver bricks, they are the perfect weight to hold the bag in shape while it's drying.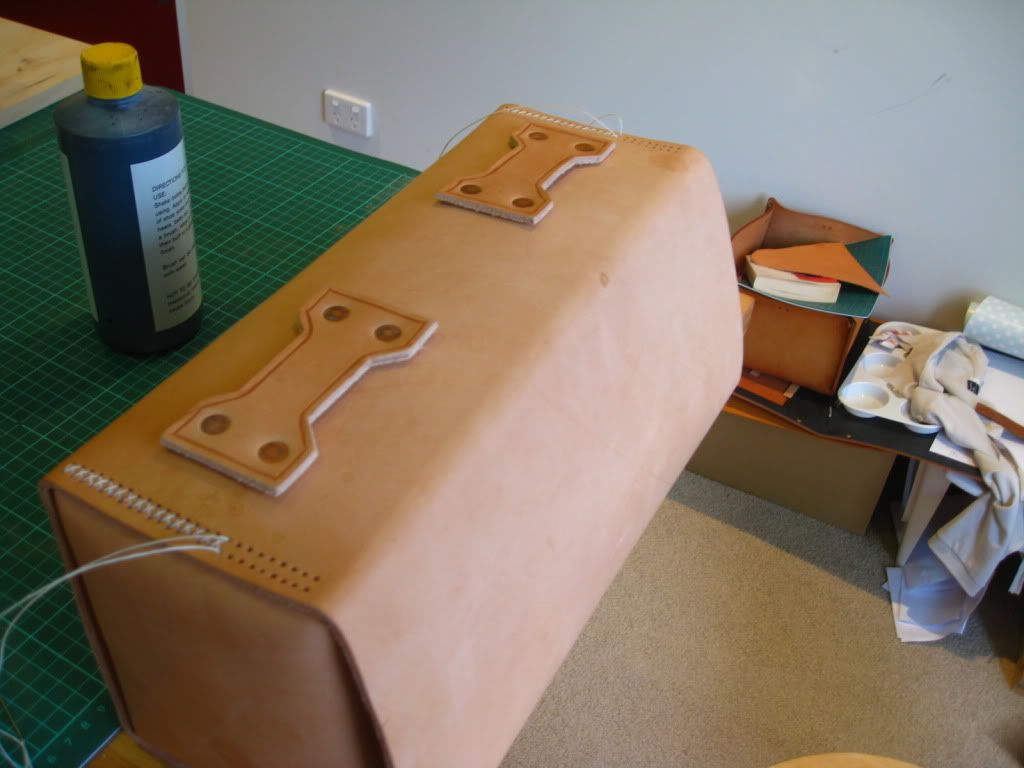 I haven't had the chance to take photos of the finished bag, waiting for a good lighting. I haven't had the chance to actually fasten the sling strap and the closure as well as making the reinforced strap yet, I'm too tired from mowing the lawn to complete the project mindfully :(.
Stay tuned for the finished photo. I'm excited to finish the bag!!